AI for the Cloud Continuum
04/07/22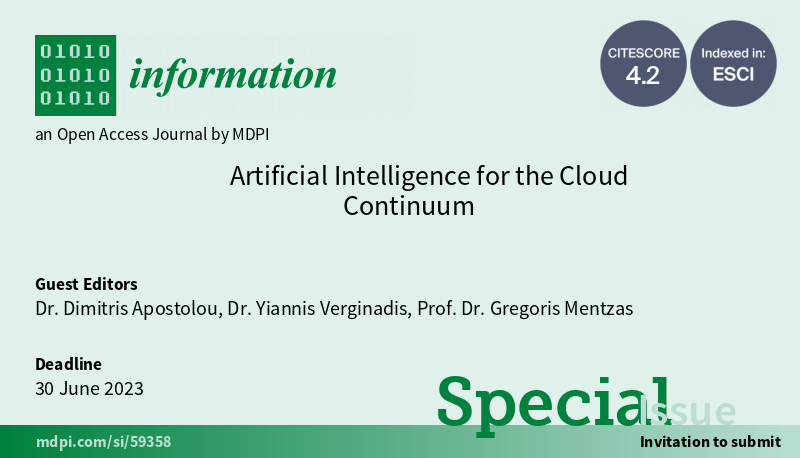 Call for papers for the Special Issue on "Artificial Intelligence for the Cloud Continuum", edited by Prof. Dimitris Apostolou, Prof. Yiannis Verginadis and Prof. Dr. Gregoris Mentzas, deadline is 30 June 2023.
This Special Issue will bring researchers, academicians, and practitioners together to discuss new AI methods, algorithms, and tools, as well as new applications of AI for overcoming the challenges of deploying and managing next-generation applications and services on the cloud continuum. Topics of interest include (but are not limited to):
AI for DevOps operations on the cloud continuum;
AI for Function as a service (FaaS) provisioning, deployment, and management;
AI in cloud serverless architectures;
AI for secure communications management at the cloud continuum;
AI for data portability, privacy, and security for preserving the confidentiality of data and protecting users' privacy within the cloud computing continuum;
Intelligent techniques to facilitate secure data portability and computation on sensitive data across heterogeneous resources;
AI for adaptive deployment on heterogeneous computation resources;
Intelligent methods for prediction, detection, and reaction on changes in the workloads;
AI for application lifecycle support and optimization;
Intelligent workflows, monitoring of execution platforms, application deployment, adaptation, and optimization of execution;
Autonomic fault recovery of cloud continuum computing resources;
AI for scalability and QoS at the cloud continuum;
AI for optimizing energy efficiency of cloud continuum infrastructures.
For more info: https://www.mdpi.com/journal/information/special_issues/artificial_intelligence_for_cloud_continuum
Recent News
We are pleased to announce a new project: "Greece 4.0", [...]
We are hiring! Join us at IMU a multi-disciplinary research [...]
We had an inspiring and thought-provoking workshop on Foundation Models [...]