Call for Papers: AI and Analytics in Digital Factories
10/01/22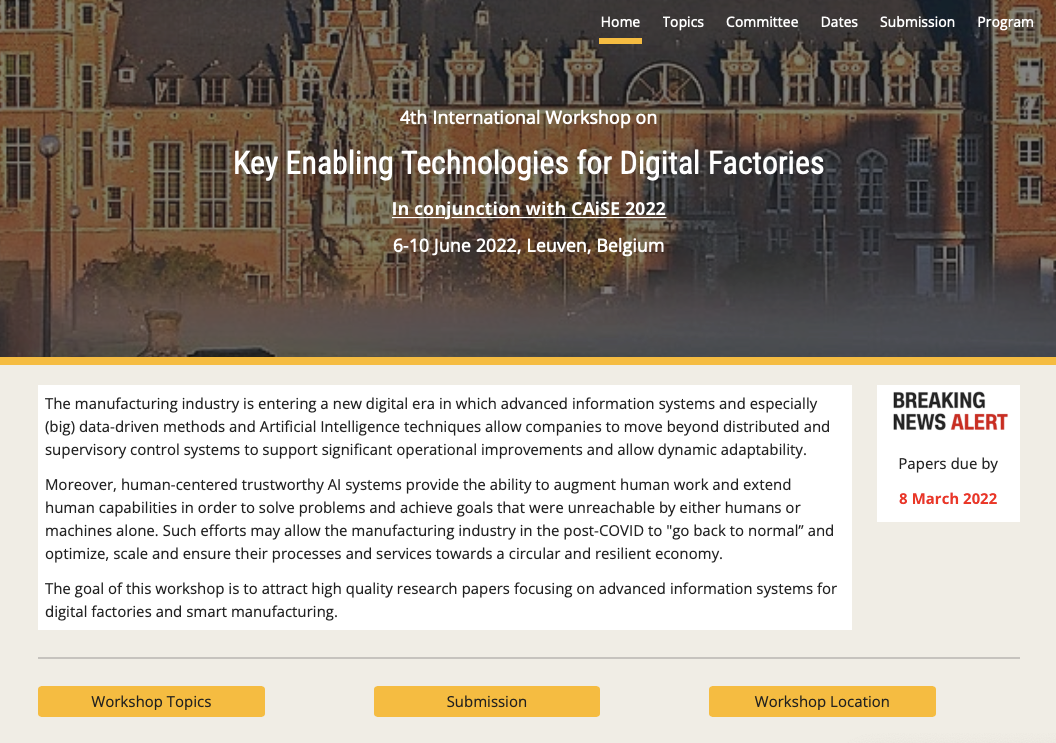 Doing research in AI and Data Analytics in manufacturing and smart factories? Submit your work to the 4th International Workshop on Key Enabling Technologies for Digital Factories, held in conjunction with CAiSE 2022. 6-10 June 2022, Leuven, Belgium.
Papers due: 8 March 2022.
Topics of interest:
– Advanced Information Systems for Smart Manufacturing
– Information Systems Engineering for Production Management
– Big Data Technologies and Analytics for Smart Manufacturing
– Artificial Intelligence and Machine Learning methods for production systems
– AI and digital twin applications in production and operations management
– Design issues for multimodal human-AI interactions in the industrial environment
– Explainable and transparent AI in manufacturing
– AI approaches to support and leverage circular economy production models
– AI approaches to predict and minimize the effects of unpredictable events
– Digital intelligent assistants, software robots (softbots) and chatbots
– Applications of Human-Centered AI systems in manufacturing
Supported by the EC-funded research projects COALA, STAR and XMANAI.
Recent News
Alexandros Bousdekis from our group at Iccs-Ntua presented the Augmented [...]
Our director Prof. Gregoris Mentzas presented the ICCS-NTUA member pitch at the [...]
Save the date and join us in our 1st COALA [...]